Volvo 850 Turbo Heater AC Climate Control panel Unit Alps 9166550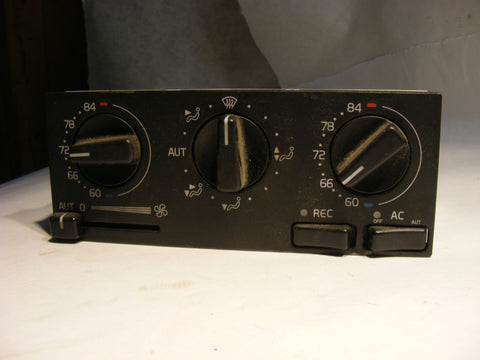 Volvo Climate Control Unit Up for sale is a Volvo 850 climate control unit - removed from a recent crash damaged car, and comes with a 30 day functionality guarantee from epartsland.
Physically in good condition, a little normal use wear on the unit.Volvo made several of these, if this is not the one you need, check my other listings.  Check the part number off of your original.  This is in good working Condition, all buttons ARE WORKING PROPERLY. These parts are insanely priced at the dealer, and are still a lot of money for a remanufactured unit - $601 for a programa unit . this is about as cheap as you will find for a correct unit anywhere! This is a very good item to use or keep as a spare since these units are so expensive!! unit is used and it works fine (runtested). A faulty one can be noted by the climate control being stuck on one position regardless of the setting on the climate control, also by buttons that don't function or stick.