volvo 1357434 Mass Air Flow Sensor to throttle body plastic intake pipe - good Used, genuine Volvo 740 940 1357434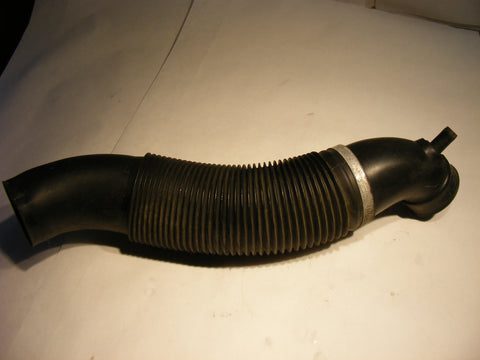 Up for sale is a good used Volvo Plastic intake pipe.  This Unit is part number 1357434  - it is a genuine volvo GOOD used unit.  Please see your original unit for the correct part number if you are seeking a replacement part!
Old volvos measure air entering the engine via a mass air flow sensor, in order to inject the correct amount of fuel, and thus, run.  the ECU uses the reading from the mass air flow sensor to calculate the amount of fuel to inject.  This is a very precise measurement.  This plastic hose runs between the mass air flow sensor, and the throttle body.  Any break or chafe through of those hose will affect how the car runs because un metered air will get to your engine - affecting the air/fuel ratio!  You need to have NO holes, no damage to this hose.  Check yours, make sure it is perfect.  If it is not, it will cause LEAN running, as un metered air will enter the engine.  This can cause a whole hose of drivability problems.
This is a good used genuine volvo part!  I will warranty it for 60 days after purchase.  Note, the aftermarket units are simply not as robust as genuine volvo units. I highly recommend a good used genuine unit!  we sell these for 1/2 the price of a cheap aftermarket unit!  This WILL last YOU longer, and is CHEAPER!