Saab New Gen 9-3 Electric Radiator Fan, Cooling Fan Assembly with Shroud 03 04 05 06 07 08 09 10 11 12801549 12801550 24410993 24418357 - Genuine Saab, good used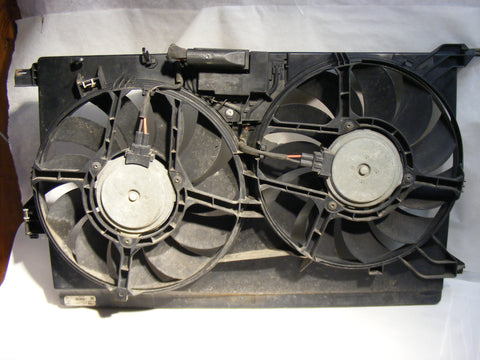 Saab 9-3 radiator fan set, with shroud & relay box. 12801549 12801550 24410993 24418357 - common to find on 9-3's - very expensive to buy new!
This is a good used 9-3 Saab radiator fan assembly for sale here.  This includes both fans, and the shroud & the relay box  Price these out new from Saab, this package is over $880.  Though usually fairly reliable, failures do happen on high mileage cars, or cars with front end crash damage.  This unit, Genuine Saab, Removed from a recent crash damaged (rear ended) 2005 Saab 9-3 2.0T.  This is a good working unit.  We briefly tested this fan and it runs, and runs quietly. Includes un cut wiring, and a pigtail from the donor car (in case your wiring is damaged).  Will give a 30 day warranty.  Some parts from this assembly lists as no longer available in the Saab EPC, so good used or aftermarket is your only option for this!  This good used unit should have some life left in it!