Saab 9000 Turbo Gauge / Instrument Cluster 4711537 / 47 11 537 Yazaki With Electronic Display Unit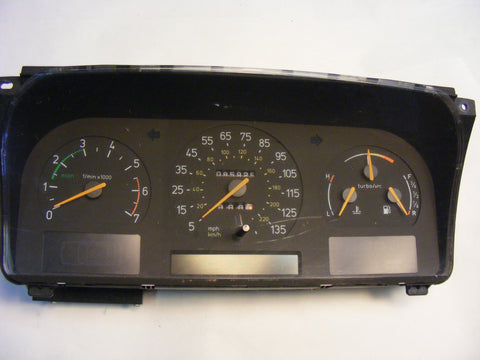 Saab 9000 gauge cluster 
 Up for sale is a Working, in excellent condition Saab 9000 Turbo Gauge cluster- Not sure of the year on this, but it has a
47 11 537 Electronic display unit. - if you have the same EDU in your 9000, likely this cluster will work with your car.
 This unit worked perfectly when removed from a crash damaged car  Has sat in dry storage for years. Physically and cosmetically very nice. This unit is the exact unit you will receive!  These are great for replacing your entire cluster, or replace just the parts you need from this cluster- they are easy to take apart, and replace individual components from. Saab 9000 cars often times have internal failures of the spedometer head, or the gas/temp gauge capacitors, which cause non operation, erroneous readings, intermittent operation, or continuous non operation. This unit works just fine!
Any single part on this cluster would cost more to buy then I am offering the whole cluster for!  The spedometer head, the dimmer switch, the tachometer, the circuit board, all the bulbs, the gas & temperature gauge, the plastics... It's a treasure trove of parts!  
Please note, we have a large variety of 9000 clusters and parts.  If you need something specific, we might have it!  shoot us a contact.