Saab 900 Turbo Shift Gear Rod shaft 7543184 7543176 saab 86 87 88 89 classic rare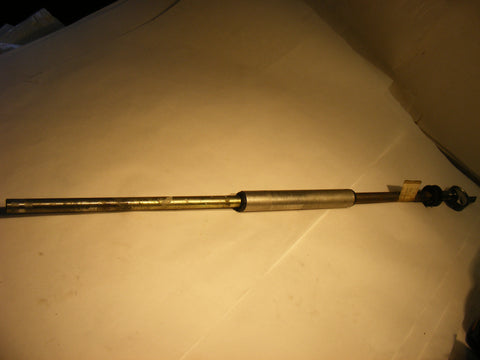 Saab 900 shift shaft 7543184 7543176
 Up for sale is a good used Saab Classic 900 shift shaft.  This unit connects the shifter to the transmission, and engages to the shift lock unit in the center console of the classic 900.   Good working condition.  This unit is straight and has minimal wear.  These units are generally reliable, but I have seen lots of wear on these units on very high mileage cars.  This unit must be straight and in good condition in order for the shifter alignment to be correct!
This unit came out of a 1991 900-SPG that was rusted beyond repair.  Ways you might find you need one?  Well... funny you should ask!  Last year while I was replacing the transmission in my own personal 1988 900-SPG, I disconnected the shift linkage, and went to pull the engine.  Well, the trans somehow did not get away from the linkage, and bent the SHIT out of the shift shaft!  You may also find you need a shift rod if you try disconnecting the shift taper pin, and fail.  Drilling out this taper pin frequently ends up damaging the shift shaft making aligning or properly attaching the shifter impossible.  These units can also be damaged if your classic 900 is stolen!  frequently these are bent of broken if the shifter is forced out of reverse.
So if you need one, found!  Note, this is the correct unit for 1986-1989 cars,  may be correct for more, but I am not entirety sure.  Most 90-93 cars use a different shifter.  Let me know what you need I can get you the correct one, what ever type you end up needing.