Saab 900 Turbo Rubber Shift Boot W/ complete Shifter Shift assembly & knob Classic SPG Convertible 91 92 93 94 type 9344300 7544828 4279493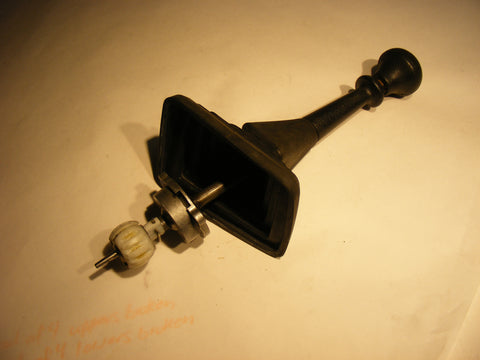 Saab 900 Shifter, with Rubber shift boot.  9344300 7544828 4279493 - with later style shifter mechanism, correct for 91 92 93 & 94 convertible cars.  Good working condition.
 Up for sale is a good used Saab Classic 900 rubber shift boot, with shifter.  Some parts of this unit is no longer available from Saab!  Good used condition.  rubber boot is in better condition than 90% of these that I have seen.  Some wear, no holes, rubber is very nice, and solid black, used but real nice.  This rubber boot suits ANY Classic Saab 900, however the shifter unit is original equipment to post 1990 cars only.  - you can swap the rubber for your original shifter if you wish, but the shifter itself is really an excellent value too, the post pre 90 shift shaft can be purchased new, but at a cost of over $200 - quite expensive!  If you need any shifter parts, this might be the cheapest way to get them, and you get a nice rubber shift boot too~
I encourage buyers to take a look at their shifter before purchase, as classic 900's have been around the block at this point.  I have often times seen newer cars and older cars that have a shifter assembly that is not correct for the year of the car due to a previous failure or conversion.  I have both types if you end up needing one or the other, just let me know and we will get YOU the right classic 900 parts!
Happy days!