Saab 900 Turbo Classic Complete Gauge / Instrument Cluster assembly 81 82 83 84 8581423 w/ 85 MPH spedo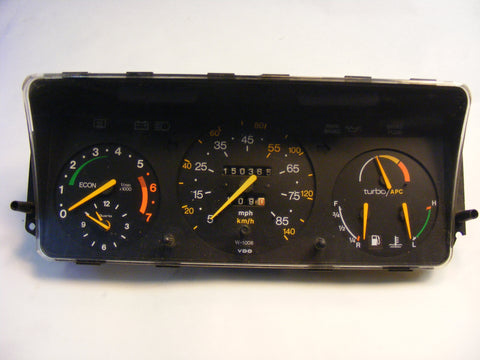 Saab classic 900, gauge cluster, for  turbo, Fits 1979-1988 (Original to 81 82 83 84) - This unit removed from a K-E Jetronic 1981 8 valve car. 
Up for sale is a Working, in excellent condition Saab 900 Turbo Gauge cluster.  This unit has the correct spedo cable hook up & circuit panel for the all pre 16 valve Saab 900 Turbo cars. This unit worked perfectly when removed from a crash damaged car, and has sat indoors for years since it was removed in the late 90's. Physically and cosmetically very nice.  Great for parts to fix your original cluster, or install it as is - these are pretty easy to swap.  I have 4 of these, exactly the same, except for mileage.  all are different mileages, I am not taking new pictures for the exact same item - so count on receiving an "unknown" mileage cluster.  
Any single part on this cluster would cost more to buy then I am offering the whole cluster for!  The spedometer head, odometer, trip meter, the dimmer switch, the tachometer, the circuit board, all the bulbs, the gas & temperature gauge, the plastics... It's a treasure trove of parts!  
 If you need one, you may have a hard time finding one... But..... Found!  At epartsland.com