SAAB 900 Classic SPG Turbo DASH DASHBOARD BEZEL TRIM AROUND INSTRUMENT GUAGE CLUSTER AND TEMPERATURE CONTROL RARE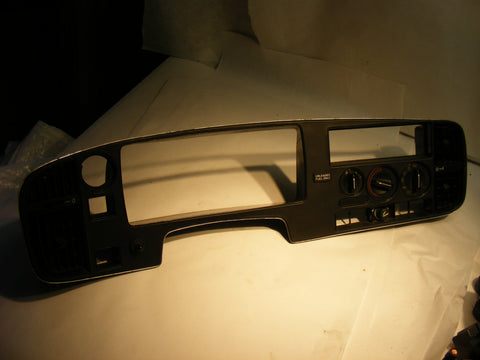 Saab 900 Classic Dash Bezel.  This unit is in petty good shape cosmetic.  Soft touch "sticker" material called rubber fascia in the Saab EPC (electronic parts catalog) is nice.  Everything is good, radio opening, etc all look very nice.  Part number 9714791 / 4083002 - These units are frequently broken, or otherwise a cosmetic nightmare, and they are a very prominent feature of the classic 900 interior!  You should have a nice one if you have a nice classic.  Again... This unit has an un molested radio opening!  This unit is correct for cars with or without power mirrors.  If your car HAS power mirrors, you have to make the square holes for your switches.  I recommend using a heated exacto knife, you can easily cut the holes and install them into this bezel. 
This unit is good used, NOT new.  These units mount with 4 long screws, in 8 different points.  This unit, slightly imperfect has 2 out of 4 upper points BROKEN, and 1 out of 4 lowers broken.  It will STILL mount securely like this.  A few of these mounting points being broken is an almost universal classic 900 problem.  This can not be seen once installed into your dash board.  If this concerns you, an easy fix?  Buy some washers that are the right size, and you can epoxy them to the stilts in the rear of this dash bezel.  It's fairly easy, and you will then have 8 out of 8 holding points, that will be STRONGER than the original mounting points were.
If you have a nice classic 900, you need this.