Saab 900 / 9000 Classic Fix for twisted seat Passenger or driver Power seat Cable housing Sheath motor 0390206693 4126355 9542317 9579715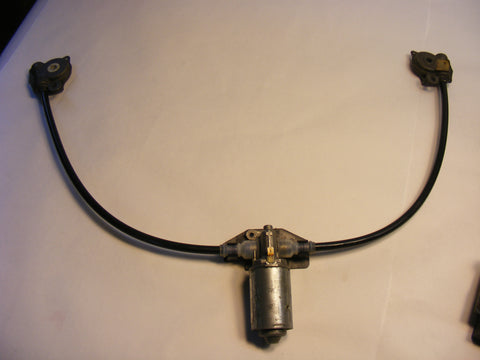 Saab Power seat Fix Kit - 1X motor 0 390 206 693 / 9695768  2X cable housings (sheath) 41 26 355   (cables) 95 79 715 &  95 42 317 - for passenger OR driver side. - correct for cars without memory seat function.
Up for sale is "seat twist fix" special deal.  Have a Saab classic 900 or 9000 with power seats?  I Bet the backrest does not adjust properly!  This is a very common classic 900 / early 9000 problem.  All pre 1994 Saabs with power seats suffer from this.  Frequently all 3 of these components, which control the backrest can fail.  Once they fail, you will have a seat back that will only move one side, and start to "twist" as you move it.
Fixing this is easy with the good used kit I have up for offer here!  All you have to do is remove the seat, and partially remove your back rest seat skin, just enough to un bolt everything... then position the backrest so it's straight after removing the angle drive (included with my kit), bolt the new bits you will receive from me, and bam!  you will have a functional seat backrest again.  Check out these black cables under your seat.  Chances are you will find these plastic sheet housings have broken clean in 1/2, which can also damage your cables, motors, and angle drives (I include ALL this with the kit).  Each seat, driver & passenger side contain 2 of these plastic sheaths (4126355,) - which are very hard to change independently without this kit I have for offer, as well as a right cable  9542317, and a left cable 9579715 plus of course the Bosch motor , a 0 390 206 693 / 0390206693  - again, ALL are included here. - if you are Saab savy, you can install this in less than an hour, or bring it by the Epartsland home, I can do it for you.
And in the future?  when adjusting your backrest, sit forward a bit, adjust, and then sit back.  Also, careful when flipping the seat forward if it's a 3 door car!  You should not make the seat back work harder than it has to, or it may fail again.
This is a good used unit for sale here. Some of these parts are no longer available from Saab!  Very Cheap in comparison to dealer list price!  Some parts I have here now lists as no longer available from Saab, so good used if your only option!