Saab 9-3 900 9000 Trionic 5 Lucas Fuel Injectors - set of 4 D5162EA 913512 391cc Injector set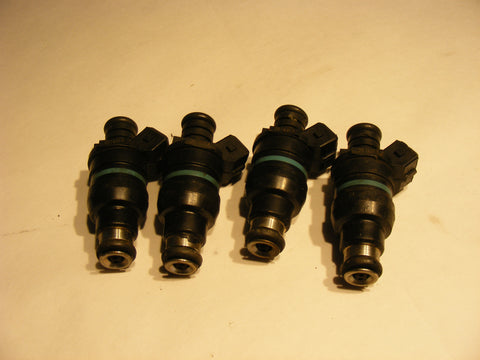 Up for sale is a good used Saab Fuel injector set of 4.   
Art nr 913512
p/n D5162EA
Fabrikat: Lucas
Resistans: 15,9 ohm
Flöde: 286g C7H16 @ 3bar /60s   391cc
These are the largest injectors fitted to a 4 cyl Saab.  Hard to find these days.  Original equipment to 1993 Saab 9000 2.3 Liter Trionic 5.2 full pressure turbo.   The Bosch trionic red injectors are 350cc, these are 391cc.  You will need a re-tune if you want to use these injectors in a 94+ Saab, or in any application other than a 1993 Saab 9000 with a T 5.2 control system.  If you are running close to 100% duty cycle on the Bosch red injectors (350cc) these will get you down about 10% below this returning you to a safe range.  on a 2.3 liter Saab running gas (not e85) these injectors will be sufficient for a car with a mild turbo upgrade and power in the 300-350 HP range.  Other applications?  Check your wideband o2 sensor.  These are a nice size, but not HUGE like green giants, but they do provide more flow than the Bosch red injectors fitted to almost every Saab trionic car except 93 9000 aero & FPT.
Good used condition.  Great for upgrades, replacements, turbo projects, etc.  Again, Supports nearly 350 HP on most 4 cyl engines.  
Units comes with a 30 day functionality guarantee.