Saab 9-3 2003 SAI Emission / Smog Pump Secondary Air Injection Motor 12791286 12791957 P0410 Check Engine code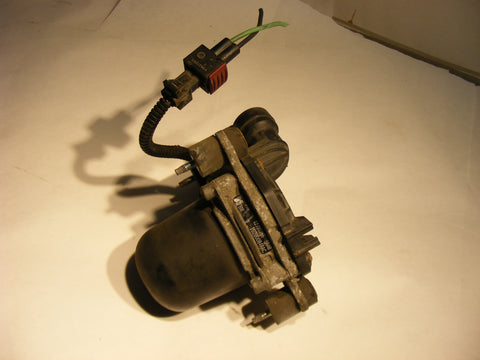 Saab 9-3 12791957 12791286  SAI electric pump
Up for sale is a good functional Saab 03 9-3 sport sedan SAI pump.  These units only came on 03 model year cars.  This pump runs for about 45 seconds when the car starts in order to accelerate the combustion process and speed the warm up of the cat converter. , If defective, you will notice no drivability problems, however you will get a check engine light, and a P0410 code, which will cause you to fail a state inspection. 
These units very frequently fail on 03 9-3's, and it's not a fault of the pump itself.  The pumps are quite reliable, however there is a metal check valve that keeps condensate and exhaust gas OUT of this pump under normal operating conditions.  When this check valve fails (located on the top of your engine, Saab part number 12791285), this pump gets full of water from exhaust condensate and then fails in short order after this.  A good used pump (from me!) will save you a bunch of money on this repair, as it's the most expensive aspect of this fix.  When replacing this pump it is VERY important that you ALSO replace the CHECK VALVE with a NEW unit too, or you will be replacing this pump again in a few weeks!  A good used SAI pump, and a new check valve will get you many many years of trouble free service.
I will warranty this pump for 60 days, this unit has been runtested and works well!  I will NOT warranty this pump if it shows any signs of internal water damage, as this means you did NOT replace the check valve.  Again, this MUST be done if you have had an SIA pump failure on an 03 9-3, or you will just have another failure!  Dealer book rate for replacing a defective SAI pump and valve on an 03 is about $900 - call your Saab shop, it's true!  For the cost of a good used pump here, and new $100 check valve, and with a bit of wrenching to replace it yourself, you will have this problem fixed for 1/3 that price. I also include a wiring pigtail (not that you should need it) - but it's there.