LAND RANGE RANGE ROVER ECU ECM Engine Control Computer ECU ECM 96 97-98 P38 GEMS-8 ERR7397 80756A PRM9639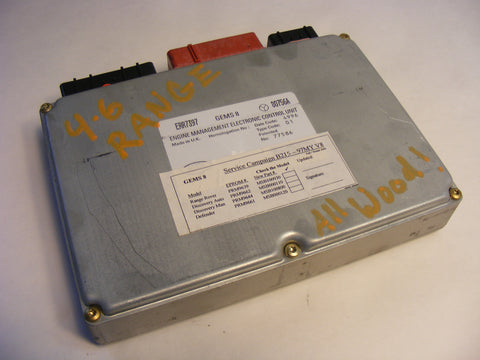 Range Rover / Land Rover Discovery ECU 4.6  ERR 7397 80756 A PRM 9639
 Up for sale is a Good working SEIGM/LUCAS range rover ECU. This fits many V8 4.0 rover models Check the part number here vs the one on your original.
It was removed from a wrecked 1997 Range Rover HSE with about 119,000 miles.
 Unit is used from a collision salvage car and is in good working condition. This is one of the most common no start or random cutting off problems with the Motronic ECU controlled cars. These can also be a problem with erroneous check engine lights / emission control issues. If yours does not have this problem, keep an extra ECU in the trunk, you might some day be glad you did... These units are over $1000 at the ROVER dealer, and finding a good one second hand is getting to be a real chore. ***  This unit will likely need to be programmed for your cars immobilizer before it will allow your car to start with this ECM!