Genuine Bosch Mercedes C230 C280 Kompressor Ignition Coil Module Set of 2 with wires 0221506002 / A0001587503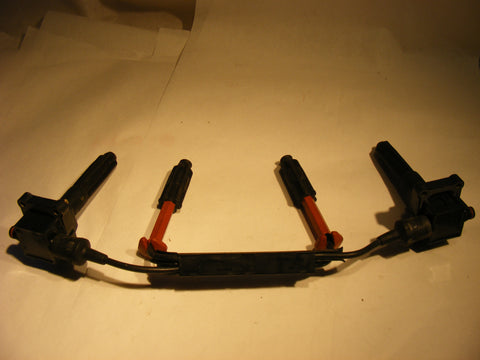 Mercedes 4 cyl BOSCH Ignition Coil Module Assembly - set of 2, with wires 0 221 506 002  /  A 000 158 75 03  /  0001587503
 Up for sale is a set of good working, used Mercedes Genuine Bosch, made in Germany ignition coil pack assemblies. These units removed from a recent crash damaged C230 kompressor that still ran just fine.  No check engine light, no misfire.  This will work on many Mercedes 4 cyl models, check the Bosch part number on your originals.  Genuine Bosch units are over $100 per coil, and do not include the wires which are another $50 per wire! You want to stick with genuine Bosch!  I will warranty these units for 60 days.  These came out of a good running car.  
I would highly advise against buying the so called "new" aftermarket units!  We have had several customers over they years who buy good used genuine units now because they had bought the sets of "new" china made units, that misfire or cause no-start right out of the box!
These units are generally fairly reliable, however a defective one will cause a misfire, and possibly a no-start condition.  
0221506002 / A00015875030221506002 / A00015875030221506002 / A000158750300015875030001587503