Copy of Audi 80 90 VW Golf Jetta 4 cyl ECM ECU Computer 0261200225 / 893907404E 87 88 89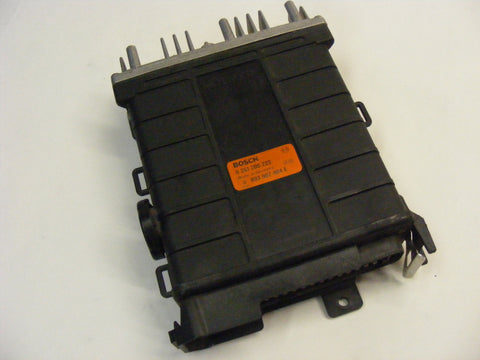 Audi ECU 404-E 0 261 200 225 / 893 907 404E
Up for sale is a Working, in excellent condition Audi 80 / 90 ECU. Bosch part number listed at top - as always your best bet is to match the part numbers with the original unit from your car for proper fitment.
This unit is "new old stock" - never installed in a car...
This unit offers a 30 day functionality warranty. The ECU is one of the most common no start or random stalling problems with these cars. as always your best bet is to match the part number to the one on your original ECU. This can also cause emission control issues or instrumentation issues (tachometer is controlled by this as well as other functionality items / fuel injection system) I often tell our customers to keep an extra ECU in the trunk, as if you are in a situation where 'I need this now" You will be out of $2000 at the VW dealer.... Though not nearly as complex as a modern day ECU, The way these early-Motronic ECU's function is through adjusting the control pressure through the frequency valve based on the inputs it receives. This will alter the fuel system pressure (and amount of fuel injected) through the fuel distributor. Primarily drivability issues this will affect if it's not working right are hot and cold starting, as well as idle quality. Additional, these units control the ignition system advance through the knock sensor inputs. If this portion of the unit is not working correctly, the car may run idle and drive fine, but be stuck in "base timing" mode and the car will not accelerate well. Yes, even with just 90 HP, they should accelerate reasonably well! The need for a properly functioning ECU with this system is clear!As always your best bet is to match the part numbers with the part you need. A faulty or water damaged ECU can cause a whole hots of issues with these cars, including non running, and random cutting out (but usually it will re-start moments later). Also idle control & emission issues are possible (excess smoke or overheating caused by lean running). Hot or cold start issues can be caused as well.