Chrysler 300M 300-M 02 2002 3.5 High Output V6 Engine ECM ECU Computer 04896226AE / 04896226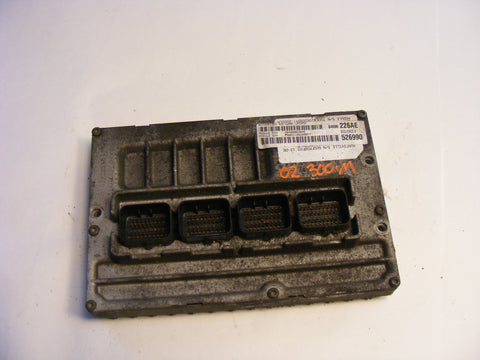 Chrysler 300-M ECU Computer 04896226AE
Will interchange with-
04896226AA 04896226AB 04896226AC 04896226AD 04896226AE 04896226AF 04896226AG 04896226AH 04896226AI 04896226AJ

Up for Sale is a Working, in excellent MOPAR ECU. This came out of a running lightly crash damaged 2002 300-M - fits others listed. Part number listed at the top or in the large pictures. Check the part number on your original to be sure this is right for your car, Price this new, save about 10X here! This is a great value!
May also fit some models of the intrepid & R/T models
This is a good used, fully functional unit with a 30 day functionality guarantee. Unlike the expensive "remanufacturers" There is no core charge with this unit, nor do you have to send us your original unit, so you will have less down time. The price you pay is the "to your door" price, and you keep your original. No "hidden fees" which end up costing you more money and take more of your time.This unit was runtested & is functional, and offers a 30 day warranty. Please be sure to double check the part number off your original unit before buying. A defective unit is one of the most common no start or random stalling problems with these mninvans. They can also be the cause of erroneous check engine lights, cold or hot start problems, or idle control malfunctions. If yours does not have problems, at a price this good, why not keep an extra ECU in the trunk? Don't end up getting stranded and having to shell out the insane amount of money a dealer is going to want for a new one! Thanks for looking!