98 Jeep Cherokee 4.0 ECU Engine ECM Computer 56041534AD 56041534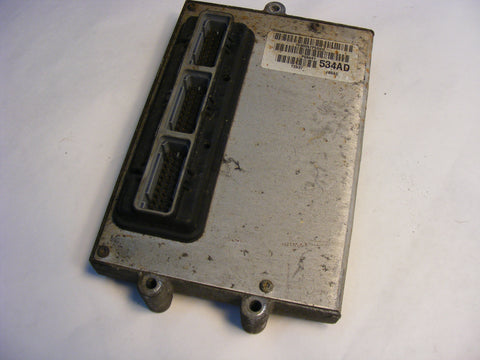 Jeep Cherokee inline 6 engine engine ECU 
Up for Sale is a Working, in excellent condition Jeep cherokee engine ECU. My list shows this works with most 1998 4.0 Liter automatic transmission federal emission Models. Part number listed at the top or in the large pictures. Check the part number to be sure this is right for your Truck.
Should interchange with-
56041534AA
56041534AB
56041534AC
56041534AD
56041534AE
56041534AF
56041534AG
56041534AH
These are very hard to find in good working condition. This unit was runtested & is functional, and offers a 30 day warranty. Please be sure to double check the part number off your original unit before buying. A defective unit is one of the most common no start or random stalling problems with these trucks. They can also be the cause of erroneous check engine lights, cold or hot start problems, or idle control malfunctions. If yours does not have problems, keep an extra ECU in the trunk, you might some day be glad you did... These units are very expensive to buy new. Thanks for looking!