94-95 Mercedes V8 ASR Throttle Body E420 400E 500E E500 0001417925 40822533 VDO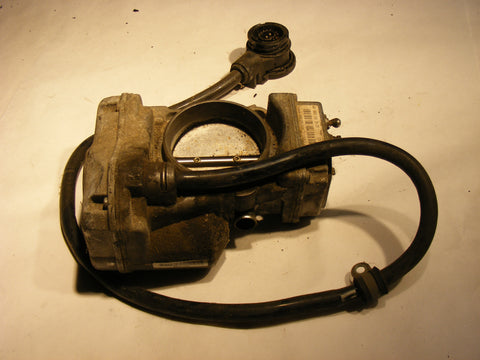 Mercedes-benz Electronic Throttle body 000 141 79 25    408 225 3 3
Up for sale is a nice used Mercedes Electronic Throttle body. This was removed from a recent crash damaged 1995 E420 With ASR . This will work with many 1992 1993 1994 and 1995 Mercedes models.But be sure to check the part number off your original, as there are several variants you may have.
These units frequently suffer from a degraded wiring loom that runs from the throttle body to the connector itself.  You should check yours!  If the wiring inside the protective sheath is crumbling, yours is no good!  I always check these throttle bodys for this condition before I offer them up for sale.  - this one is a good used unit!   All you have to do it take an exacto knife to the protective sheeth, and slice about a 6" cut in it, then pull the wiring out and take a look.  If you have crumbling wiring insulation, your throttle body is done for.  If not, just put the wiring back in it's protective sheets, electrical tape the protective sheath closed and away you go.
Common Symptoms caused by a Faulty Unit?
Mercedes VDO throttle bodies for C/E/S/CLK/SLK Models will idle at 2,000 rpm or will not idle at all. Sometimes brings up fault codes, sometimes does not. degraded wiring harness is almost always the cause.

This unit comes with a 30 day functionality guarantee. Also, unlike with the expensive "rebuilders", with this unit, there is no core charge, just install this unit and go. This is a bargain price compared to a new or rebuilt unit, and compared to a NEW OEM VDO unit, it's about 1/10th the price... so you can't go wrong here.  A defective throttle body may cause a whole host of problems with these cars. Be sure to match the part numbers here exactly.