94-95 Jaguar XJS XJ12 V12 ECU ECM ENGINE Computer LNA1410LB 100797 5984 Denso Control Unit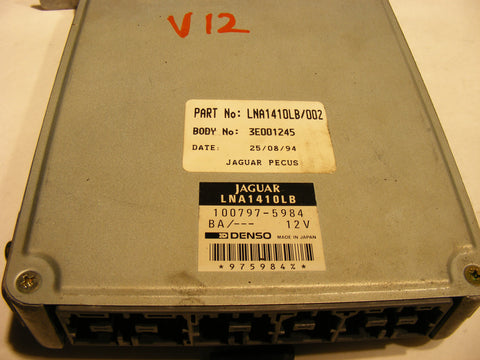 Jaguar ECU XJS / XJ12   LNA 1410 LB 1007975984 Denso
Up for sale is a Working, in excellent condition Jaguar V12 ECU. This from a 95 XJ12  V12 Jaguar.  These cars are what I like to call a "legacy car" - these cars are meant to last a dynasty, to be passed down from generation to generation...  You should have a file cabinet of spare parts for this car, and this should be in it.  Please note, you need to check the type and the part number off your original ECU to be sure this is right for your car.  these are located on the right front foot-well area of the car. 
The doner car recently died due to a light amount of damage to the Left front suspension & driver door. The insurance company totaled it because if this. The ECU still works great!
These cost well over $2000 from Jaguar, so this is in incredible bargain! Jaguar Part numbers listed at top . As always your best bet is to match up the part numbers on the ecu you need to replace with the numbers on this one.  This unit offers a 30 day functionality warranty. A faulty ECU is one of the most common no start or random stalling & low power problems with these cars. These can also cause issues with erroneous check engine lights as well as emission control malfunctions & cold or hot start problems. If your car does not have these issues but you intend to keep it a while, At this price, I recommend our customers keep an extra ECU in the trunk, before it becomes a potential breakdown "I need it now" situation.