318 318i E30 ENGINE COMPUTER ECU ECM 84-85 BOSCH BMW Engine Control Unit 0280000328 E30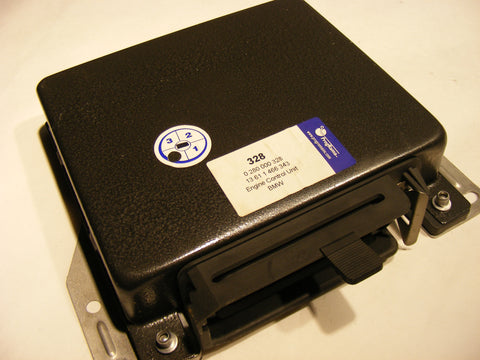 BMW 318 engine ECU  0 280 000 328 - unit is a good used, programa remanufactured unit.
Up for sale is a Working, in excellent condition BMW ECU. Fits many 1984-1985 318 / 318i BMW cars. Part numbers listed at top. This unit was runtested in an actual car and it works flawlessly. Even if you don't have a bad ECU, this is great to keep as a back up or for diagnostic purposes, as these are extremely expensive to buy new.As always with this type of component your best bet is to match the part number to the one on your original ECU. A faulty ECU is a common no start or random stalling problem with these cars. These can also cause issues with erroneous check engine lights, idle control problems as well as emission control & cold or hot start problems. Low power & lean running are also fair game. I have also seen fuel pump relay turn on faults (ECU won't turn on the fuel pump), as well as an condition where the high speed injector driver has failed. This causes the car to sit and idle fine, but it won't accelerate. Comes with a 30 day functionality guarantee, please see the details related to this on the return policy details section of this listing.