1995 Jeep Wrangler Rio Grand 2.5 4 cyl AT ECU ECM Engine Computer 56028833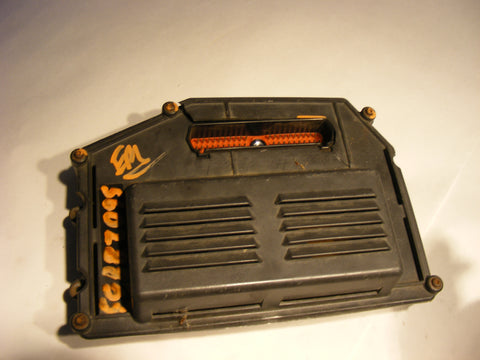 Jeep Wrangler engine ECU Up for Sale is a Working, in excellent condition Jeep Wrangler engine ECU. This came out of a 1995 2.5 liter I4 with a auto transmission - may fit others too. Part number listed at the top or in the large pictures. Check the part number to be sure this is right for your car, I have several of these units for Chrysler manufactured trucks, if this is not the one you need see my other listings. This may fit more years than just this, check your part number. If it matches, this will fit your car.  This unit functionaly perfect, however the plastic case does have a crack in it.  should still plug in, mount up, and work just fine.
This is a good used, fully functional unit with a 30 day functionality gurantee. Unlike the expensive "remanufacturers" There is no core charge with this unit, nor do you have to send us your original unit, so you will have less down time. The price you pay is the "to your door" price, and you keep your original.This unit was runtested & is functional, and offers a 30 day warranty. Please be sure to double check the part number off your original unit before buying. A defective unit is one of the most common no start or random stalling problems with these trucks. They can also be the cause of erronious check engine lights, cold or hot start problems, or idle control malfunctions. If yours does not have problems, keep an extra ECU in the trunk, you might some day be glad you did... Thanks for looking!