Finally, when it seemed that the guys could bring me nothing but silver Bosch ECUs to list here at the store, they've brought me something really, really intriguing…
Now, I know it doesn't look like much pulled from the dash of an Oldsmobile Toronado Trofeo, but this VIC – Visual Information Center – was pretty much the closest to Kit from "Knight Rider" you could get in an Oldsmobile in the late '80s. And man, was it ever chatty! "Engine overheating – Decrease engine speed." "Climate control problem – AC overheated, compressor disengaged." I mean, it's amazing more Trofeo's haven't ended up deceased due to driver inattention to the road.
Still, there's something neat about a car that wants to tell you all of its secrets, its wishes, its desires as well as give you a calendar and a neat-looking radio display. It almost makes me want to find a used…nah, it's cool, but not that cool. We'll let one of you snap this puppy up.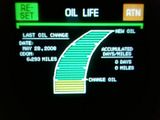 P.S. Don't forget about our November 11% discount, only good here at our store. Just type "THANKS!" at checkout. Also, check us out on Facebook and click to subscribe to our blog feed to find out the lastest about what's new at the store and more.
P.P.S. For some real Trofeo yuks, check out these YouTube commercials. Roger Moore Harry Belafonte